I teach a variety of modern quilt workshops suitable for one day or multiple days. All workshops are appropriate for confident beginners and will have options to challenge more experienced quilters. Each class allows plenty of time for learning, experimenting, and hands-on sewing. Students will design, cut, and piece the top and fast workers may have time to begin quilting. You'll also leave with confidence to design a modern quilt on your own.
During the workshop, we will discuss modern quilting approaches using straight line quilting and improvisational quilting that can be easily accomplished on your home machine with a walking foot. We will also discuss the use of quilting with threads in variegated, blending, or contrasting colors.
All workshops require a sewing machine and other basic sewing and cutting tools. A detailed supply list for all workshops will be sent when contract is signed.
---
All workshop class descriptions are also available in this printable download: C Shaw Workshop and Lecture Descriptions rev 3-9-2017
Email me for my teaching agreement!  I am currently accepting bookings through December 2019.
Patterns and instructions for many of these quilts are also available in my book, Madly Modern Quilts!
---
fibonacci
Fibonacci Quilt #1 OR Table Runner & Place Mats: Improv Made Easy

This one–day workshop is a surprisingly easy approach to modern quilting using just a few basic blocks. Block sizes are based on the Fibonacci sequence, a number series common to many things in nature. Bring your creativity, but don't worry about the math—I've done it all for you.
And, if you don't want to make the full quilt, you can use the blocks in a Table Runner and/or set of Place Mats!
You can create a quilt that looks modern, random, and improvisational quickly and easily using this method. Use all solids or a mix of solids and prints. Directions for fabric selection will be included in the supply list.
During class, students will learn options for easy customization—including a fast way to improvisationally piece the block centers. You will develop confidence for intuitive design and piecing, alternate grid layouts, and negative space. By day's end, you'll leave with several blocks completed, full instructions for completing the quilt top, and suggestions for quilting.
My thanks to my friend and fellow quilter, Sheryl Schleicher, who started me on the path to designing quilts Fibonacci style!
---
parisian
Parisian Curves #1 Quilt:  Improvisation with a Plan!
In this one-day workshop, you will learn to sew freehand cut curves with no templates required! I'll give you some basic tips–and remove your fear of piecing curves forever.
After piecing your curves, you can create a quilt that looks random and improvisational quickly and easily—no Y-seams required! Learn the FreeForm Pattern technique to disguise some of the seams, and adapt the layout to make this quilt uniquely your own! After piecing the curved blocks, you'll use the remaining fabric to cut and piece improvisational borders for the quilt.
This is a wonderful project to show off that wild and bold modern print, and then tame it down by pairing it with more neutral solids or near-solids such as grunge or hand-dyes. Or you can use all solids and even throw in some grays as neutrals as in the example below.
 MidCentury Modern Curve Quilt MiniQuilt #1

This is a super fun mini-quilt project that can be completed in a full day (or started in a half-day workshop).  With just a little bit of at-home preparation, you will create your mini quilt..
I'll also give you alternatives for making a large version of this quilt by making multiple blocks using the same process.
You'll learn how to piece a quarter circle curve without templates or pinning.  You'll also practice improvisational cutting and piecing.  And each block you make using this process will be unique and exciting.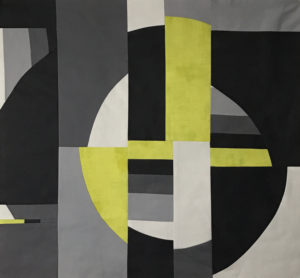 ---
sarasota
Sarasota Sunset #3 Improvisational Quilt: A Two-Day Workshop
This quilt is ideal for a two-day workshop (although it can be started in an intensive one-day class).
While this quilt is improvisational, careful intention goes into the final layout to achieve color and value balance.  On Day 1, we will begin by practicing improvisationally pieced blocks and planning the overall layout. (My sample quilt is only one option–I will discuss and provide examples of other alternate grids.)
On Day 2, you will select your blocks and continue piecing the top.  Be prepared to change your mind about your planned layout as surprise options emerge. we will also plan options for quilting the top. Fast sewers, or those working on a wall-size quilt, may have time to begin quilting.
Prior to the workshop, you will receive supply lists with options for working with a combination of ombres, batiks, solids and a focus modern print. This workshop is designed to build your confidence in planning and executing a modern improvisational quilt filled with color and complexity.
---
fractured
 Fractured Disappearing 9-Patch Quilt
This workshop shows how negative space can be used for a modern quilt-sized take on a classic design. Quilters will bring several "base" Nine-Patch blocks with them to the class. During the workshop, we will use improvisational cutting and piecing to 'fracture' each of the blocks.
This project can use any combination of fabrics, from bold focus prints to neutral backgrounds and coordinating solids or near-solids. As a new twist, I'll show you how to add interesting angles and curves to your 9 patch blocks (see sample block at right).
I'll also show you ways to design and piece asymmetrical borders, bindings and even start on your backing using scraps from the project. This is a fun project that will use a color palette based around a focus bold print, a neutral background fabric (grey in this example), a geometric print, and coordinating solids or near-solids.
---
impiotic
Patriotic Modern Quilt #1 Workshop: A Tradition Made New
Patriotic themed quilts can now be made modern! In this workshop, you will learn how to select a mix of patriotic themed fabrics and coordinating prints and solids that have a modern look. I will then instruct you on how to design a modern layout.
Groups can choose from one of several patterns for the workshop, one example of which is shown above.
This is also a great workshop for groups that want to make Quilts of Valor.
---
Flamingo Mini Quilt: From Designed to Quilted in One Day!
Who doesn't love a project that can be finished in just one day? With just a little bit of at-home preparation, you will create your mini top and quilt it in a one-day workshop! Simply bring a large Nine-Patch block with you to the workshop, and leave with your own modern mini quilt.
Nine-Patch quilts can be modernized in lots of fun ways. The 'Disappearing Nine-Patch' has become a standard block for modern quilts, but we will take it a few steps further. In this class, you'll learn several improvisational cutting and piecing techniques to completely 'fracture' a premade block. The workshop also includes instructions on walking foot quilting with little or no pre-marking. It's quite a bit of fun to see how different each finished quilt will look!